>
>
>
AMTEX Machine Tool Exhibition in 2016
AMTEX Machine Tool Exhibition in 2016
AMTEX Machine Tool Exhibition is a big international professional exhibition in machine tool industry. It is one of the biggest and famous machine tool exhibitions in Asia. The machine tool manufacuter, trader and end user from all around the world, especially southeast area, will attend the exhibition to communicate, purchase and look for cooperations.
Changchun Rongde Optics Co.,Ltd (Roundss Encoder)got very good market response during the exhibitions. Many visitors and exhibitors from different industries were interested in Roundss encoder products.At the same time. Roundss encoder paid much attention on the samples and document preparation this time.
3 qualified and experienced sales representatives were taking part in the delhi machine tool exhibition. During the four days exhibition, roundss dispatched 200 pcs encoder products catalog, encoder datasheets in disc 200 pcs,bag 50 pcs, bussiness card more than 400 pcs. And Roundss received 200 pcs business card from customer.The biggest success for this exhibition is that we find the distributor in Delhi and achieved the first try order of encoder products.
The local TV had a interview with Rounds encoder during the Delhi machine tool expo.We introduced our company and our products briefly and expressed our idea and wishes on india market. India customer will learn more about Chinese company and products from the TV.
Roundss had a standard booth during the exhibitions. The poster boards were modified many times before the Delhi Machine Tool Expo.We bring a new face to customers.Roundss provides many types of encoders: incremental encoder, absolute encoders, draw wire sensors, magnetic ring encoders, cnc spindle encoders, MPG hand pendent, Handwheels, flexible couplings and rotary switches. Among the rotary encoder products, handwheel and flexible couplings were most welcomed.More than 30 visitors and exhibitors asked for inquiries positively.We can see that the mpg and flexible couplings have a great market in local.
The four days AMTEX 2015 was over with a successful end.Roundss showed the strong strength of itself in rotary encoder industry.And Roundss found many potential customers in india market.Within one year, Roundss took part in the exhibitions in India four times, which expressed our strong intentions in developing Indian market.We are looking for a great future.
The most sought after forming technology machine tool show in South and South East Asia, AMTEX FORMING, brings together the leading Indian and global metal forming machine tool manufacturers. The show has always been attracting the best technical and purchasing representatives, industry research institutions, organisations and corporate decision makers from the various industry sectors of manufacturing industry.
After ten year efforts,Roundss Encoder is one of the leading manufacturer of rotary encoder and other related products.This year Roundss will bring many new items to meet the clients request on the exhibiton.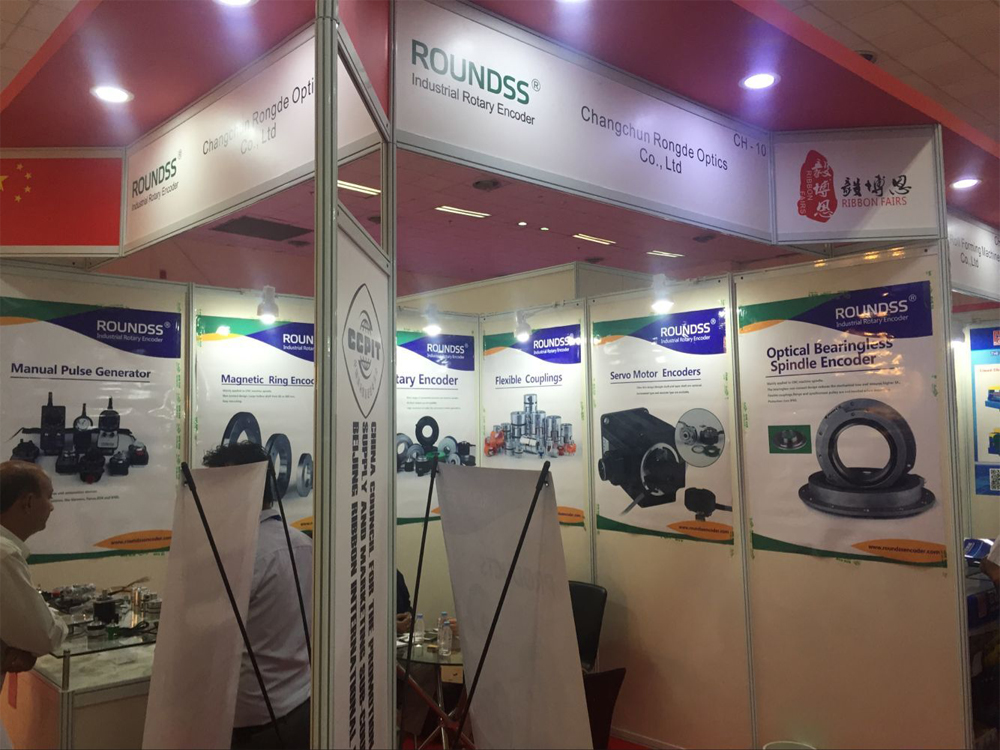 Date:Jul 8-11th,2015
Place:India Delhi
Exhibitor:188 companys